The trends for 2019, have seen an influx of exotic and less easily recognized fragrances; consumers significantly shying away from previously very popular fragrances. Although this may seem to be a risky strategy with fewer and fewer brick and mortar shopping, it seems to be paying off huge as a way to separate and individualize brands. 
As 2020 approaches, we predict the below fragrance categories will continue to increase in popularity.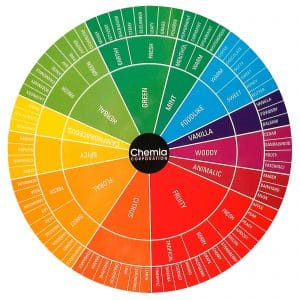 Fragrance Duos 
Two singular fragrances are being combined to create more unique scents. 
Singular Fragrances like "Cherry" continue to fall out of style while combined fragrances like "Cherry & Tobacco" are seeing a huge increase in popularity. This pairing is a great example

of how Woodland tones (Tobacco, Cedar and Amber) are being paired with fruity/floral fragrances.

Within the past several years we have seen a variety of singular fragrances paired with sea salt, that trend has kept up this year with popular fragrances like Cactus & Sea Salt. In 2020, we will likely see a further growth of sea salt paired with both green and citrus fragrances.

Fragrance duos provide a great way to reach multiple demographics. 
Spice Fragrances
This year more than ever spice, camphoraceous and herbal fragrances have grown in popularity. 
This trend is especially popular with cleaners and soaps used in kitchens. 

Herbal fragrance like Rosemary, Mint & Sage dominate this market. 

As trends move away from Floral scents, fragrances like Eucalyptus, Moss & even Cactus have become extremely popular. 
Lesser Recognized Fruit & Floral Fragrances 
Going away from the more recognizable and standard fragrances, formerly popular fruity fragrances are transitioning towards the exotic fruit spectrum. For example, Currant & Bergamot are most notable. We are also seeing a rise in Ginger & Grapefruit Fragrances

As for floral fragrances, Peony and Geranium spiked in popularity while more mundane scents like Lavender have declined. 

Examples of these lesser recognized fragrances can be seen in Mrs. Meyers Radish line as well as their wildly popular Honeysuckle scent.