At Private Label Retail, as your cleaning chemical co-packer, we can help your company reduce cost and lead time as well as help you meet customer needs. Thus, a co-packer can help expand your business.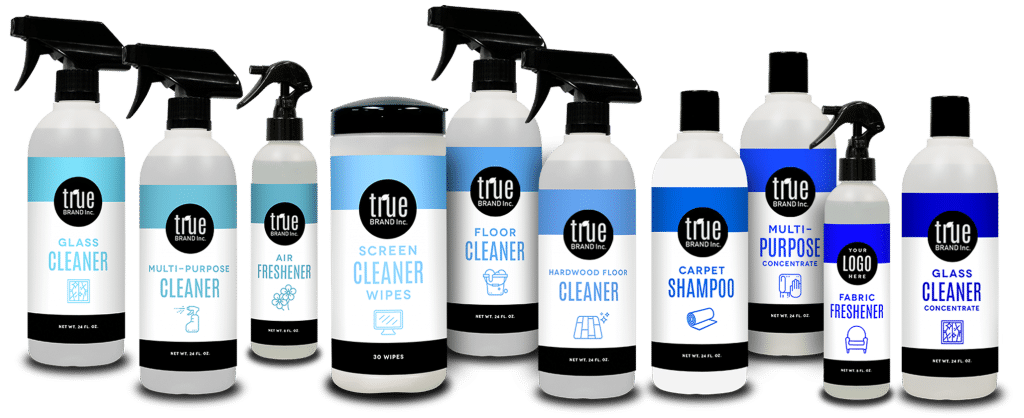 Let us be your Cleaning Chemical Co-Packer!
Contact True Brand today at: (816) 845-8029
Using a co-packer in your private label business is an aspect of brand development. It's one of the toughest areas to get right, especially if you're working towards a successful manufacturing run. This brings us to the question, why should you use a cleaning chemical co-packer?
Reduce overall cost

Reduce lead time

Increase your brand

Reduce overall cost
Let's be honest; packaging can be expensive. It involves hiring workforce, purchasing equipment, and acquiring the necessary certifications – this may cost thousands of dollars. Once you partner with a co-packer, you'll see your private label expand without having to hire additional staff. This means that you can bring innovation to your production unit. In addition to that, a co-packer can help to downsize your workforce. Private Label Retail has facilities in multiple markets which reduces the production costs. This can lead to greater product visibility. Apart from revolutionizing the packaging process, the co-packer uses services such as:
Bar-coding

Thermoforming

Fulfillment services
Reduce lead time
A skilled co-packer is able to enhance performance and speed. When you involve a packaging company, you could bring down the lead time as you move the product to the shelves. Co-packers experienced in the niche understand how the variables in the production line can make the necessary adjustments to produce the desired results. Private Label retail has a large production facility which reduces the time required to carry out the production runs. And because the company has already laid down all the groundwork (invested in equipment and facilities), it's ready to tackle the challenges of packaging head-on. Private Label Retail uses automatic machinery, robots, and conveyor systems to package the products. These packaging machines also code and label your cleaning products. When you leave the co-packers to handle the packaging operations, you can create a rock-solid business model.
Increase your brand
Private Label Retail will work with you to make your brand what you want. Because you can choose from our formulas or create your own, your brand will truly be your own. Whether you're a start-up or you want to expand your business, the co-packer can meet your business needs. Because the company has experience in warehousing and logistics support, you can streamline your operations. It's worth mentioning, that flexibility additionally can boost your product image.
The cleaning industry can have tight and rigid delivery schedules for products. Therefore, working with a co-packer allows your business to meet these demands. Additionally, it can boost sales and grow your brand. Transparency, reliability, capacity, and trustworthiness are critical. Private Label Retail will help you secure larger orders without additional staff/equipment. 
Your Cleaning Chemical Co-Packer!